Computers I have built
This Document Copyright 1999 © by
John F. Uske (All Rights Reserved)
My very first computer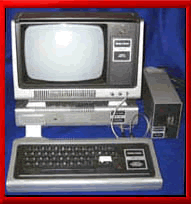 I build my own Personal Computers because I get better results that way.
I originally started out with the Radio Shack TRS-80 model 1. My best friend Ritchie and I each bought one when they first came out and we started to modify them to add things like lower case text, more ram, etc. Other things happened in my life and I drifted away from computing for a long time. Then back in 1992 I found an IBM PC XT in the garbage. I took it home and fixed it up and used it as a word processor to type and edit documents for a big project I was doing. Once that was over. I forgot about computing again. Then in 1998 I made some big carreer changes and bought my 1st Pentium based computer. It was a cheap Acer Aspire with one ISA slot and one PCI slot and an 8 GB hard drive running Windows 95. It stopped working one day and I did not know what to do. I brought it to an Acer service center and was charged $225.00 for a new hard drive. They gave me the old drive to send to a data recovery center.
I felt ripped off. So I started reading books and magazines and built my second computer from scratch using an AMD Athlon Socket A CPU mounted on an FIC SD-11 Motherboard. It worked perfectly. I just kept on building more powerful computers as my needs increased. I recovered the data off the original Acer hard drive myself. There was nothing wrong with it. The OS was corrupted and that was all. The PCs I build now you can't buy anywhere. (See Above)

The machine you see above was based on the ASUS A7V-KT133 Mother Board running an AMD Athlon Socket 754 Processor with an ATI All in Wonder Radeon Graphics card. I built this machine in 2001 and connected it 2 another tower and running a mix of ATAPI, SCSI, and USB interfaces on boot up this machine was controlling 22 drives on letters A through V. (See the Screen Shot Above).

In 2004 I heard Windows Vista was coming and so I began to buy the pieces I needed to build a 64 bit computer. My new project was built in a cube tower case and is code named (Fat boy) because of the case style. You can read about that computer in the (How I have Fun Now) section of the web site. On the left you can click on the link to view some slide shows of the PCs I have built.