Air Lounge Feature Tour Page 7
This Document Copyright 1999 © by
John F. Uske (All Rights Reserved)
Our Gym and Workout Area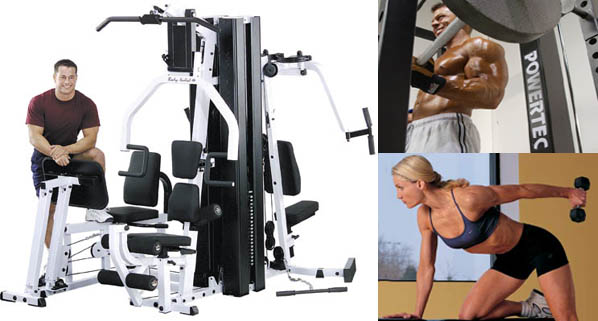 Do you want to workout? Then try our Mini Gym!
Use our EXM3000LPS Weight Machine by Powertec. This multi-station workhorse provides health club quality strength training for up to three people simultaneously. The EXM3000LPS features a multi-function Press Arm Station for bench press, incline press, shoulder press and chest supported mid-row exercises. The fully-adjustable Perfect Pec Station with range limiters allows users to achieve deeper muscle penetration for faster, more defined results.

The Leg Press / Calf Press Station operates on a 2 to 1 weight ratio giving the EXM3000LPS the awesome capacity of a 420 Lb. leg press! The non-slip, rubber encased foot plate is constructed of heavy-gauge steel for safe operation during the most intense workouts. Every pad, pop pin and pivot point feels natural. Both 210 Lb. weight stacks are within easy reach for a quick, safe weight selection. What's more... you never need to make a cable change.